Background
"Originally, I did all the quotes myself," states, Jon Sells, President of Jon's Plumbing & Heating, MountVernon, OH. It was difficult for Jon to go out in the field as well as run his business – especially when his business was growing.
A lot of times he did what most contractors would do, in Jon's words, "I would show up at the house, spend a few minutes there to gather the information that I needed and tell the customer that I would get back to them. Then in the evening I would work on the quote and send an email the next day."
Learning About Sales Builder Pro
Jon first learned about Sales Builder Pro at a dealer meeting.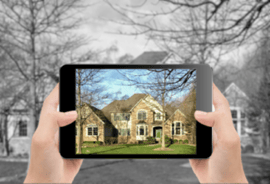 He recalls that "I remember turning to my wife and telling her that this is what I have been looking for all these years." Now, when Jon or his employees go out to a house, they can actually design the system with the customer. For multi-zone ductless they can go room-by-room and determine where we are going to put the indoor units. They can show the customer where they will put the outdoor unit.
"It won't let us make a mistake."
Now, we can build the system in the app. Jon explains how it works, "as we are building the system the app is building the price for us. It won't let us make a mistake."
Remarkably Fast
One of the things the app does, Jon explains is that the app, "logs when you open up the app, when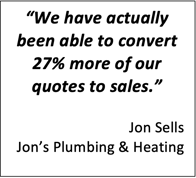 you sign the quote – so it gives you a time of how long it took you to create that proposal. I remember coming back to the office and looking at those time stamps. It took me 7 minutes to create that proposal."
Huge Impact
"I would say one of the biggest impacts that the app has had for me as a business owner is the amount of time it has freed up for me to be able to actually work on my business rather than in my business. That's been huge."