Deal Manager is a collection of features designed to help busy HVAC contractors better manage their proposal pipeline by making it easier to do the many little things that need to be done, but that is often overlooked in the course of a busy day. If you've ever wished that seemingly easy tasks should be made easier, then Deal Manager is for you!
Deal Manager was developed with input from busy contractors like you that said, "there has to be a better way." Well, with Sales Builder Pro now there is! A better way to manage HVAC sales prospects. A better way to communicate information with your customers, your sales team, your office staff, installers, and business managers. And a better way to keep your team productive and your company growing. Accurate and timely sharing of information will help you grow faster and operate more efficiently - and in the process providing the highest level of service to your customers.
Improving communications, coordinating activities has several powerful benefits. It will help you:
Actively engage with customers to win more HVAC deals.
Automate communications between field workers and office workers – assuring that everyone has the right information at the right time to do their job effectively.
Moving work to the next stage of the process more efficiently. Every day, hour, or minute that you can remove from a process allows you to work more efficiently and more profitably. In the process, you'll also provide exceptional customer service.
Here's what you will find in Deal Manager.
HVAC Proposal Search
Search for business proposals by status – Accepted, Declined, or Pending. With just three clicks you can create a list of pending proposals for follow-up phone calls. Follow up with a purpose. Being responsive, helpful, and informative can help you get the win.
Remote Acceptance
Getting to a quick close will keep you a step ahead of your competitors. Avoid follow-up customer visits to secure signatures and receive customer authorization by phone with Remote Acceptance. Remote Acceptance provides a complete audit trail of customer authorization and triggers automated notifications to other team members to take action – request a deposit, schedule the install, or order equipment. With Remote Acceptance, you'll lock in wins more quickly and move on to the install!
Deal Notes
Apply color-coded notes to proposals to inform co-workers of relevant job updates. These visible notes communicate important job-related information such as:
Homeowner asked the crew to arrive after 8:00 AM
If we can install before June 25, then we have the order
Collect final payment upon completion.
Document Storage
Documents adds to the information already available in Sales Builder Pro. With Documents, you can upload job-related documents such as warranty registration, subcontractor agreements, and AHRI certifications. If it's something that belongs in the Jobs Folder, then you'll want to add it to documents. Documents will take you one step closer to the paperless office and having all job-related information you need few clicks away.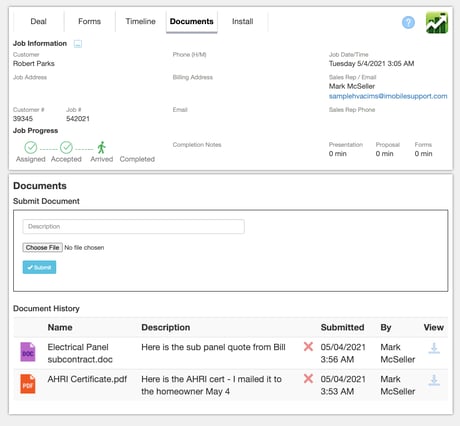 Deal Manager is packed with small features that create a huge impact for your company by simplifying processes, accelerating the speed of communications, and enabling your sales, office, and install teams to work more efficiently.
Sales Builder Pro simplifies the complex, time-consuming, and sometimes tedious work so that you can focus on what you do best. Installing HVAC systems and delighting your customers. Just one more way that we help you build a better business with Sales Builder Pro!
Schedule an HVAC Proposal Software demo to learn more...
Deal Manager is a standard feature of all Sales Builder Pro packages Essential - Preferred and Premium. If you're already using the Sales Builder Pro then you have access to Deal Manager. If you are ready to take in-home HVAC sales to the next level, then
to see how Sales Builder Pro can help you build a better HVAC business!