"My close rate jumped to 70% when I started using Sales Builder Pro!"
That's a direct quote from one of our customers. And we want you to experience that same success firsthand.
That's why we've created a simple 10-Step Guide: Digital Sales Tools for HVAC. It offers proven tips and tricks direct from other HVAC owners, managers, and salespeople. We want to help you sell more in less time, become more profitable, generate higher profit margins, and build a better business.
In Part 1: Prepare of this three-part blog series, we discussed three important steps involved in preparing for the HVAC sales call or comfort consultation. And we highlighted some key features of Sales Builder Pro, our in-home sales app for HVAC and other home services.
Increasing HVAC Sales and Profit With Great Sales Calls
Now we'll discuss the second phase: conduct the sales call. Make sure every HVAC sales call is a success by following these five simple steps:
1. Build Rapport
Establish trust. Use digital sales tools to build rapport and credibility with customers quicker and easier than ever. You need to "feel their pain" and establish yourself as a trusted Comfort Consultant, providing reasons why they should buy from your company.
Here are two key ways to build rapport:
Build trust: Arriving on time is the first step to building trust with the customer.
Look and act professional: Sales Builder Pro will help you achieve this by providing a digital system on a tablet app. It's designed to communicate the full value that your company offers.
Consult Like a Trusted Family Member
As a Comfort Consultant, you want to consult like a trusted family member invited to discuss a family decision. You want to be seen as a valuable person in the discussion of an expensive expenditure. If you can get to that point, you're helping your customer get to the right decision based on your knowledge. Once you've done that — you've built rapport.
Sales Builder Pro Communicates Professionalism and Value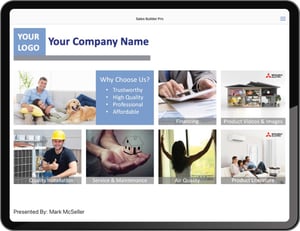 Create a powerful, professional first impression, and communicate the full value that your company offers. You only get one chance to make a great first impression. With Sales Builder Pro, you have the power to sell more — at higher prices and in less time. Gone are the days of making multiple trips and spending hours preparing a proposal. No more math mistakes, illegible handwriting, paper forms, or financial calculations.
This indispensable HVAC sales tool automates your point-of-sale experience from start to finish. Sales Builder Pro allows you to present better as well as configure a choice of solutions (including pricing and financing) and sign proposals on the spot.
2. Discover and Document Needs and Wants
Know the difference. Customers might "need" a furnace or AC system. But they buy what they "want" — healthy indoor air, comfort, quiet, peace of mind, a fix for the room that has always been too hot or cold, and lower utility bills. When you speak in ways connected to their wants, you'll sound more persuasive and relevant to what they want to hear.
Be Consistent
Many contractors don't have a consistent, repeatable follow-up sales process. Or they simply forget to capture all the information they need for a winning follow-up sales call. Whenever deals linger, even for a day, their process breaks down. Call details quickly fade from memory. Call notes can be incomplete, haphazard, or misleading.
Use the Comfort Survey to Focus on Personal Comfort
The Comfort Survey helps you focus on your customer's personal comfort needs on a room-by-room basis. You'll uncover family health issues and document air quality improvement opportunities. You will be better prepared to discuss equipment efficiency and the impact on energy bills.
The Comfort Survey form leaves nothing to chance. Gather all the info you need — every time — to improve your follow-up win rates. Everything is automatically saved to your tablet for instant recall. Follow-up calls are far more complete, precise, and effective. It's like you never left the customer's home.
The Comfort Survey is an engaging, interactive sales tool that helps you discover and document the needs, wants, and wishes of every customer. It also allows you to perform follow-up work and manage your sales team from a distance, ensuring full transparency and accountability.
Use the Site Survey to Earn More Money
Unscheduled rollover days and wasted return trips to retrieve missing parts cost contractors hundreds of dollars. Worse yet, most rollovers occur during peak season — when the loss of a day means the potential loss of a profitable job — an opportunity cost of thousands of dollars.
The Site Survey, included in our Preferred and Premium Packages, helps contractors eliminate these problems and improves their bottom line. You'll get three professionally designed Site Surveys — one each for unitary, boilers, and ductless — and get a better install every time.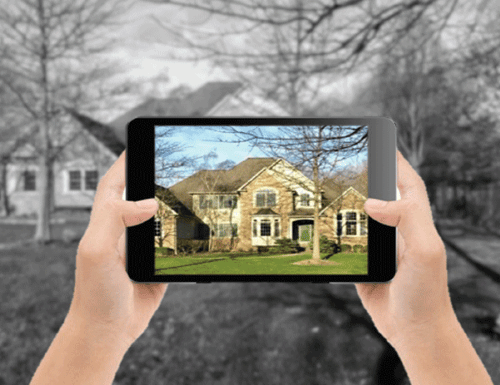 3. Communicate Value
Don't compete on price. Differentiate your company from fly-by-night competitors with installation quality, service, and affordable financing.
Wow Your Customers
Be more professional and win more deals on the spot. Get Sales Builder Pro's interactive sales presentation:
Access videos, digital brochures, and infographics.
Add homeowner reviews, before-and-after pictures, and web links to customize your app.
The five interactive buttons on the home screen help to explain why a customer should choose to work with your company:


Contractors may upload OEM explainer videos, customer testimonials, and company flyers, such as maintenance programs and sample agreements.

Magically Fast

Get the speed you need to win more deals on your very first call. Shift into high gear with Sales Builder Pro and slash your proposal creation time by 80%.

4.

Offer Choice




Never assume what your customers might choose. They may surprise you. They may choose a high-end system once you explain the benefits of quality and the risk of a cheaper choice.

Savvy Buyer's Journey

Today's savvy buyers are just a Google search away from a limitless amount of information — as well as misinformation. During the buyer's journey, consumers first become aware they have a problem. For example, there may be no AC or they have a room that is always too hot or too cold. Finally, they decide to do something about it.

Next, buyers consider their options and gather information. Internet search, on-line reviews, and word-of-mouth referrals all come into play. When the choice involves HVAC, an in-home sales call is often part of the consideration stage. That sales call may well be the final step of the buyer's journey — making a decision.

Preparation and Pricing

Your preparation for this sales call is critical. Do everything in your power to show up on time, be polite, and demonstrate your industry knowledge. Remember, your ability to connect with your customer and convey your passion about your products and services often makes the difference between winning or losing.

But you may be wondering what to do when it comes to offering customers pricing options. Should you offer choices? If so, how many choices? How should you position your prices? The three-option pricing strategy has been used and accepted by retailers for decades. Thus, the good-better-best pricing strategy is a great starting point for most customers.

5. Close the Deal




After discussing HVAC system options and pricing strategies, it's time to close the deal. However, you may have to overcome objections. The most common objection is price.

Overcome Objections

For a typical soft close, you could ask: "Is there any reason we can't move forward today?" It's important to give the customer time to accept the proposal or

state an objection. Comfort Consultants are usually more comfortable talking about HVAC system features than pricing. In fact, they may find it difficult to overcome objections to pricing. It's important to remember that most HVAC sales are the result of an emergency. Most customers don't have the money available to pay for a new system.

Highlight Cost-Saving Benefits

After quoting the midrange option, the consultant can highlight the premium system, which is more expensive but also more energy efficient than the

midrange option. Energy efficiency means lower utility bills for the customer. Once the customer understands how utility savings over time will lower their total cost of ownership, they may decide to purchase the premium system.

Offer Monthly Payments

To encourage the customer to accept the proposal, convert the total HVAC system price to a monthly payment, with three payment options. "People don't always want to save money," explained Joe Crisara, owner of ContractorSelling.com. "Sometimes, they want to invest in their homes." He discussed how to create premium, midrange, and economy options, explaining "if you give somebody one price, you give them at least three prices."

Sales Builder Pro was based on this premise — offer the consumer choice. When you offer choice, you are still probing to help discover their needs.

Sales Builder Pro Simplifies Financing

Offering financing gives customers another reason to work with you. Discuss financing with every prospect. Sales Builder Pro works with all financing programs.

Several new financial technology companies have entered the residential HVAC market, including: Hearth, PowerPay, and Service 1st Financial. Sales Builder Pro supports programs from all these new companies.

Sales Builder Pro also simplifies financing from more traditional finance companies, like Synchrony and Wells Fargo. These classic firms are well-known to most contractors.

For all finance programs, contractors simply enter the program name, payment factor, and dealer fee into the Management Portal. Sales Builder Pro automatically calculates the monthly payment.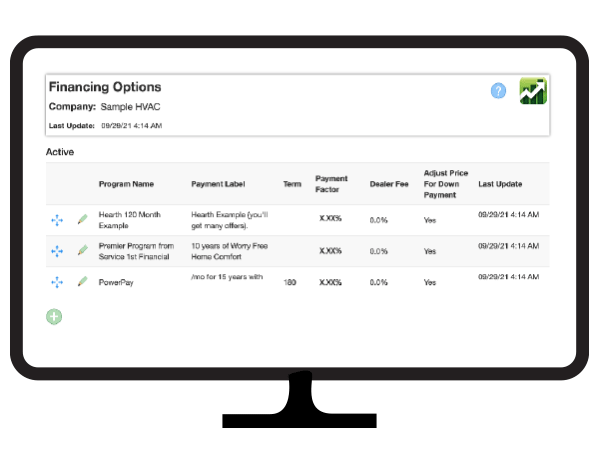 ⇒ Learn more by downloading the complete 10-Step Guide: Digital Sales Tools for HVAC. And stay tuned for our next post where we'll cover Part 3: Follow Up.